" Foz do Iguaçu mais perto de você"
Featured rooms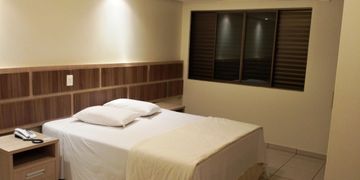 Single Room Deluxe with View
Double Room Deluxe with View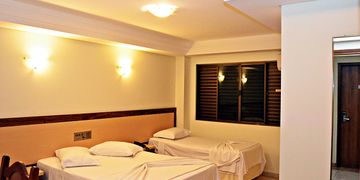 Triple Room Deluxe with View
Experience

Discover Praia Sol Hotel

The Praia Sol Hotel is located in Santa Terezinha de Itaipu, 21.5 km from the center of Foz do Iguaçu and 41.5 kilometers from the Cataratas do Iguaçu. The hotel offers breakfast included and staff able to provide information of the sights of the region. With more than 45 items, the colonial breakfast serves of breads options, pastries and cold, plus fruit, pastries and hot and cold drinks. And the restaurant and grill brings dishes of national and international cuisine and guests can also order room service or enjoy the bar. The hotel has a pool for adults and children with solarium discovery. There are meeting rooms, business center and free parking, as well as services such as laundry, ironing and transfer, at additional cost. All hotel rooms have air conditioning, flat screen TV, minibar and free Wi-Fi. Also has a hairdryer and toiletries in the private bathrooms. The Parque das Aves, Foz do Iguaçu International Airport, the Marco das Três Fronteiras and the Usina Hidrelétrica do Itaipu are within 30 minutes by car. Already the Ponte da Amizade is 22 km and Foz do Iguaçu Bus Terminal is a 17-minute drive away.
Amenities at Praia Sol Hotel
Hot Tub
FREE Internet
Air Conditioning
Heating
Laundry Service with Additional Cost
Children Pool
24-Hour Security
Solarium
Garden
Breakfast
Outdoor Pool (seasonal)
Small Pets Allowed for Free
Wake-Up Service
TV Room
FREE - Pets Are Allowed
Ironing Service
Free Luggage Storage
Pool
Bar
Business Center
24-hour Front Desk
Shuttle Service with Additional Cost
Airport Shuttle with Additional Cost
Lockers
Computers for Guests' Use / Cybercafé
FREE WI-FI
Outdoor Pool (All Year)
Beach Chairs
Parasols
Bellhop Service
Free Parking
Room Service
Towels / Linens
Restaurant
Meeting Room(s)

Praia Sol Hotel
Rodovia BR 277, KM 708,5 sn
Foz do Iguaçu